Good Stuff
Deviled Eggs with Spinach and Bacon
Like we said earlier. We've got eggs! This is a tasty spin on a classic appetizer.
Ingredients:
1 dozen hard boiled eggs, peeled
1/2 cup fresh chopped spinach
1/4 cup mayonnaise
1/4 cup cooked, crumbled bacon
2 tablespoons cider vinegar
1 tablespoon sugar
salt and pepper to taste
Directions:
Cut the eggs in half lengthwise and scoop out the yolk. Mash them with a fork and add the remaining ingredients. Mix well. Spoon the yolk mixture into the egg halves. Chill them until ready to serve and enjoy!
Simple Kale Salad
This recipe is not only super simple it's amazingly healthy and delicious as well. Here in the Pacific Northwest we're lucky enough to be able to grow kale nearly year around.
Ingredients:
2 tablespoons olive oil
2 tablespoons lemon juice
1 teaspoon chili powder
1/2 teaspoon salt
2 bunches kale, stems and tough ribs removed, leaves very finely chopped
Directions:
In a large bowl, whisk together oil, lemon juice, chili powder and salt. Add kale, toss to combine and serve.
Sales, Deals, and Specials!
Sluggo is on Sale
Tired of those pesky slugs eating away at your precious garden plants? Sluggo is the answer. It's a unique blend of an iron phosphate active ingredient with bait additives. The bait that is not ingested by snails or slugs will biodegrade and become part of the soil in your garden. Super effective, non-toxic and it's 25% off! Completely safe for plants, pets and wildlife.
Cool Tools:
We proudly stock Radius NRG garden tools at our nursery! Radius' advanced ergonomic design minimizes hand and wrist stress while maximizing power and comfort. The unique curvature and contour of the grip encourages a safer, natural, wrist-neutral approach to gardening. People with conditions like arthritis and carpal tunnel syndrome often find this grip greatly increases their enjoyment of gardening. Choose your weapon for just $13.99!
Motion-Activated Chirping
Birds and Croaking Frogs
This cute and lifelike creatures add personality and charm to any garden, home or business. Use these functional ceramic animals indoors or outdoors. "Chirps" or "Croaks" with the recorded sounds of actual critters when the motion sensor is activated. Motion sensors trigger their cheerful chirping and movements but can also be disabled so you can enjoy these birds in silence.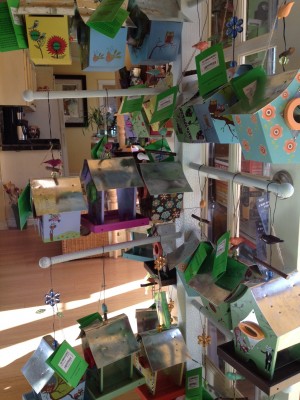 For the Birds
Birdhouses are the best alternatives to natural features for providing nesting spaces for birds. There are many hundreds of bird species in the Pacific Northwest alone! Only a small percentage of these birds can now nest in natural cavities. So, many will welcome the opportunity of nesting in your birdhouses – especially birds like wrens, bluebirds, chickadees, titmice… even wood ducks.
If you've browsed our giftshop you know we have a decent selection of birdhouses and birdfeeders. But wait, there's more! Many more amazing avian nesting structures have recently arrived! And mind that you don't neglect the hummingbirds. We have feeders for their needs as well.