What's New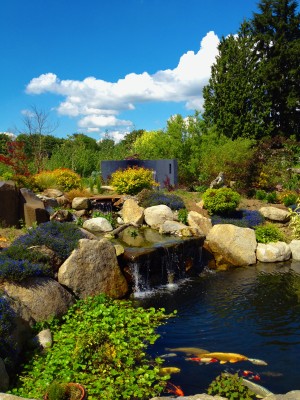 Father's Day 2013

Thanks to all who came out to celebrate Father's Day at the nursery. We couldn't have done it without you. As we've said before we really enjoy hosting these type of events, be they Mother's Day, Father's Day, Ladies Night, Garden Club Meetings, etc. We look forward to many more in the future.
Interested in having us host your garden club's meeting? Give us a shout. We'll set you up with a lovely evening of food and refreshments. Rick is also typically willing to give a talk on the topic of your choosing – within the limit of Rick's knowledge of course, which is beyond ample. Our nursery really is a fun place to spend an evening.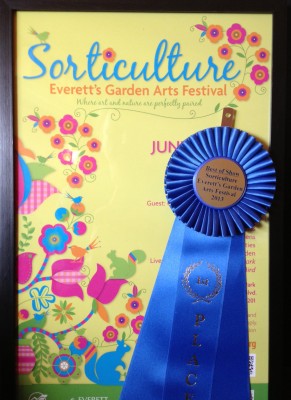 Sorticulture Round-Up
Sorticulture continues to improve on itself each and every year. It's hard to believe that Everett's Garden Art Festival has been running since 1997. It's such a beautiful venue and we're so very lucky that the weather has been perfect two years in a row.
Now allow us to brag a little bit. The Falling Water Gardens Booth won Best In Show this year! It was a huge surprise to us as we weren't even aware that such a prize even existed. The blue ribbon makes it official. Thank you to everyone who came out and supported us as well as the entire Sorticulture operation. We couldn't do it without such a fantastic customer base.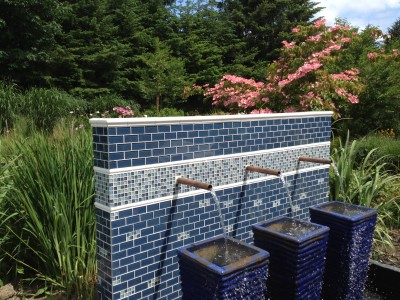 New Water Feature at the Nursery
While it's not technically brand new, it has found a new forever home in Monroe. This is the water feature that was part of our collaboration for this year's Northwest Flower and Garden Show. If you recall the theme of our garden was 'California Dreaming' and the greater theme of the show was "The Silver Screen Takes Root – Gardens Go Hollywood". This feature is enjoyed from the nearby seating area. You can see highlights from the show here.
Please note that we've updated our newsletter format. You may navigate through this newsletter by clicking on the page numbers below.