What's New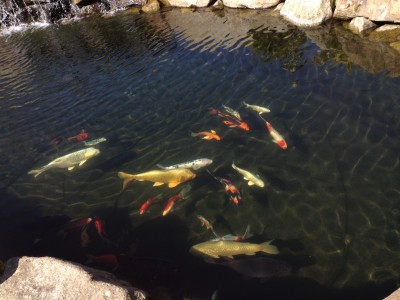 Fish are here!
We continue to stock gorgeous koi and goldfish as the season rolls on. We've got shubunkin, sarassa, butterfly koi, domestic and Japanese koi, and in just about every price range. Have you seen our fish house in Monroe? We've got a wonderfully robust selection.
Mother's Day at Falling Water Gardens
Once again we'll be hosting a day dedicated to Mothers. They're worth it, right? Load up the car and bring Mom out to the nursery this Saturday and Sunday, May 11th and 12th. We'll have snacks, refreshments and all sorts of festive fun. Just like the years prior, all Moms receive a free flower. Lovely! Treat Mom right. Bring her to Falling Water Gardens as part of her special day.
Beneficial Insects
We have ladybugs and praying mantis for sale! The Lady Bug is the most widely recognized of all Beneficial Insects. The Lady Bug, actually a beetle, is known mostly for aphid control but also feeds on chinch bugs, asparagus beetle larvae, thrips, Colorado potato beetle, whitefly & mites. The Lady Bug is effective in gardens and greenhouses and will attack pests in both it's larvae and adult stages. Ladybugs will consume over 1,000 aphids in it's lifetime. While the Praying Mantis is a general predator that attacks any garden pest it can get it's hands on most people buy them for the interesting way they protect the garden. The Praying Mantis gets it's name by the way they patiently stand with it's forelegs tucked under it's chin waiting for dinner to walk by. When someone does get too close the mantis can grab it's prey faster than a housefly can flap it's wings one time trying to get away. Once the Mantis has a hold of a victim in it's vise like hooks they always bite the neck first. Mantises are sold in the egg case that will hatch from 50 to 200 baby Mantises once things get warm enough in spring.
Vegetable Starts are Here! 
We've got a great variety of starts this year. What do you like? There's broccoli, cauliflower, cabbage, tomatoes, peppers, squash, chard, lettuce, beets and that's just naming a few. It's that time of year. Get out in your garden and plant some vegetables!
Thinking about herbs? We've got those too. Take your pick of sage, basil, rosemary, chives, thyme, and on, and on.
Pond Cleanings
We are now scheduling pond cleanings for those of you with fish. The weather has warmed up sufficiently enough to safely move them during a cleaning. Would you like to be on the list? Email us through our contact form, or give us a call at (360) 863-1400. Our prices remain the same as in years past. If we have never cleaned your pond and you would like a quote, please give us a call.
What do we do for a spring pond cleaning?
• Drain and clean the pond and refill
• Check water quality, PH and ammonia levels
• Check fish health
• Check aquatic plants and move to the proper level, fertilize, and divide if necessary
• Check the pump and clean the volute
• Check the skimmer
• Start the biological filter
• Start the UV Sterilizer
• Check the auto-fill valve, lights, and other plumbing.
Most pond owners are capable of performing a pond cleaning, and we always encourage Do-it-yourselfers. However we've cleaned hundreds and hundreds of ponds. It's an important part of what we do. If you are feeling up to it you may want to consult this how-to video Pond Cleaning 101.
Ladies Night
Our first ever Ladies Night was a resounding success. We aren't used to having so many people at one time so parking proved a little tricky. Other than this tiny hiccup things went wonderfully. All the ladies really seemed to enjoy themselves. And why not? Who doesn't like wine and h'orderves while shopping and roaming our gardens?
Please note that we've updated our newsletter format. You may navigate through this newsletter by clicking on the page numbers below.