Cool Plants
Sambucus racemosa 'Sutherland Gold'
This choice specimen has a graceful habit with finely divided golden foliage that emerges as bronze. It is less susceptible to sun scorch than the other gold varieties. It bears creamy white flowers that mature into red fruits. Sambucus is suitable for mixed or shrub borders or for naturalizing in wild areas; cultivars with colored foliage such as this one are effective as specimens. The fruits of this genus have culinary attributes when cooked, but can cause illness if eaten raw, or if the poisonous seeds are consumed.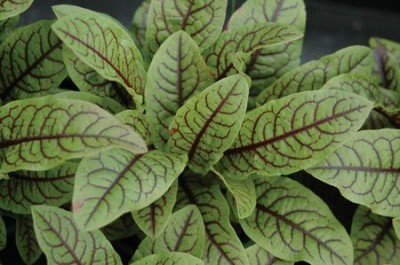 Rumex sanguineus
Red-veined dock is a taprooted perennial with a rosette of leaves distinctively marked with deep red or purple veins. It is grown mostly as a foliage plant or ornamental vegetable, but it also produces erect stems of tiny, star-shaped green flowers that turn reddish brown. These are followed by dark brown fruit. Native to Europe, northern Africa, and southwest Asia. Leaves are intricately veined in blood-red or dark purple.
Stipa tenuissima
Also known as 'Mexican Feather Grass", Stipa is a very attractive Texas native that forms fine textured clumps about 18 inches wide and an equal spread. It is very drought tolerant and must have well-drained soil. Ponytail grass can be used as accents in the garden and it is especially attractive when planted in groups. Perfect for dry slopes. Also a good container plant. Whispy, fall seed heads start out buff color then changing to golden-bronze.
Typha Minima
Like a miniature version of our native Cat-tail, this is a great choice for planting beside a pond or stream. Plants form a clump of narrow, grassy leaves, bearing upright stems of fat, round brown cat-tail flowers during the summer. These remain attractive well into the winter. Excellent for cutting. Roots spread to form a patch when grown in the open ground. Clumps may be divided in early spring. Easily grown in a tub, set into a water feature so it remains constantly moist.
Eryngium 'Big Blue'
Fabulous for hot, dry spots 'Big Blue' has green spiky foliage supporting huge 4″ diameter bracts that surround the blue center cone. This robust hybrid Sea Holly will entrance you as you watch the silvery bracts and green cones ripen to shades of shimmering blue in mid-summer. An excellent cut flower, fresh or dried. A rugged plant that offers both texture and color to the xeric garden.
Dicentra 'Gold Heart'
The old-fashioned Bleeding Heart has been a garden favorite for years. It's a substantial plant that bears long, arching racemes of pink flowers. 'Gold Heart' is a classic beauty with one marvelous variation: It has metallic gold leaves and peach-colored stems instead of the usual green. Bloom starts here in early May and lasts several weeks, subsiding with the arrival of summer heat. Plants often go dormant in midsummer (interplant with Ferns and Hostas to fill the breach). Long-lived, reliable, and will self sow.
Caltha polypetala
One of the earlier blooms to appear in the spring, Giant Marsh Marigold comes alive with happy yellow flowers atop a glossy dark green foliage letting everybody know Spring is upon us. Hardy in zones 4-7 and not reaching much taller than 2 feet tall, the Giant Marsh Marigold is great for kicking off the growing season with some yellow colorful blooms. Unlike our native Caltha, this one holds its foliage later into the warmer summer months.
Colocasia 'Tea Cup'
Colocasia 'Tea Cup' is one of a kind, for sure. Just take a look at the leaf structure on this one! The leaves hold themselves very upright in an inverted cup like pose. They will fill up with water and then slightly tip over and pour it out. 'Tea Cup' can put on a spectacular show. When the sun shines down on 'Tea Cups' leaves, it illuminates the leaf tissue around the dark purple veins, which gives it a very spectacular look. This is just one of those plants that were its architectural form will blow you away.
Please note that we've updated our newsletter format. You may navigate through this newsletter by clicking on the page numbers below.