Welcome
Spring is finally here and we couldn't be happier. It's such a busy time in the garden it's difficult to know where to start. Fear not. We've got what you need to jump start your garden and get your pond or water feature looking fabulous for the coming season.
April's edition contains invaluable information on what you and your garden and/or water feature will require to get ready for the approaching warm weather, not to mention all the latest goings-on at Falling Water Gardens and Falling Water Designs. When's the last time you were out to visit us? We're really not far away at all. And when folks arrive for the first time they always say something to the effect of, "Wow it's so much bigger than it looks from the road!"
The water temperature in our largest koi pond is currently up to 57°.
This means it's OK to begin feeding your fish cool season food.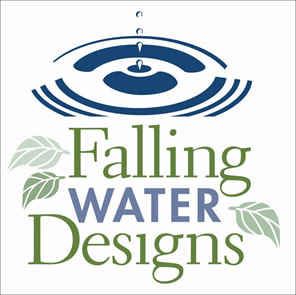 Did you know???
You may simply know us as Falling Water Gardens, the aquatic nursery and garden center in Monroe with the big fountains and display gardens and such. But did you know that the parent company, Falling Water Designs has been designing and installing award winning gardens and water features in the Puget Sound since the year 2000? It's true. We've been featured countless times in the media. We were also featured on HGTV's show Landscaper's Challenge not once, but twice. We've won awards with the Washington Association of Landscape Professionals, The Northwest Flower and Garden Show and the American Horticulture Society. We must be doing something right, eh?
Looking to have some work done in your garden?
Contact us for an estimate at (206) 323-2873.
Please note that we've updated our newsletter format. You may navigate through this newsletter by clicking on the page numbers below.