Save
Save
Save
Save
Save
Save
Save
Save
Save
Save
Save
Save
Save
Save
Save
Visit the largest aquatic nursery in the Pacific Northwest
Falling Water Gardens is a full-service destination garden center and aquatic nursery that grew out of the award-winning landscape design and build company, Falling Water Designs. Falling Water Gardens is located in Monroe, Washington.
The property is home to many display water features and gardens to provide the do-it-yourselfers with inspiration for their own spaces. Falling Water Garden's goal is to help you create your escape.
Falling Water Gardens has everything you need for your pond from fish, aquatic plants, to pond liner, pumps and other pond supplies. We carry Aqua Ultraviolet, PondMax Lights, PondCare products, Microbe-lift, Firestone Liners and PerformancePro Artesian pumps. We sell Japanese Koi. Examples include Sakai, Marusaka, Yamazaki, Omosako, and Niigata breeders. We also have a wide variety of aquatic plants, shrubs, perennials & annuals, and art for your garden.
Falling Water Gardens is also hosts weddings, glamping and other events!
Summer Hours
Open Daily 10am-6pm.
Take a peek at what awaits you...
Nice video and well done. One of the things not really emphathized or shown was whether you have pond plants as well as fish. Though I know you used to, I saw nothing that indicates you still do, even though you showed scenery there was no mention of those being available for purchase.
Lovely & unique plant & ornamental items for sale. We strolled around the whole property & the private party/reception area is stunning ✨ We enjoyed seeing the chickens, peacocks & the beautiful koi 😊 🌞
Jennifer Sparks
2023-06-22
I have driven by your nursery (to call it a nursery does not do it justice) countless times, and always wondered what was back there but never inclined to stop in!! When we needed a chunk of liner and my Mount Vernon store was closed on Sundays and I happened to be in Lake Stevens anyway, I thought why not?? (I HAD heard great things about your koi...) I arrived in mid afternoon on Fathers Day and felt like I had entered an enchanted garden. Felt like I was Alice in Alice in Wonderland. And then the skies opened up with the most torrential waterfall lol but I perservered......Lauren was AMAZING, not only super helpful and knowledgeable, but we had many laughs as well always making for a fun shopping experience. I left with a truck full of awesome, unusual, and well priced aquatic plants and a beautiful koi planter, a stunning dragon to mount on the greenhouse (GBH deterrent perhaps) and believe it or not, the Loch Ness Monster. (a lovely cement piece that is so unique). So to anyone else that has driven by wondering what's back there, don't do what I did. GO IN you won't regret it! Next time I am hitting the labyrinth!! And the koi were great, I would have left with some but wasn't ready to shuffle fish around to allow for quarantine. See you soon FWG!! Jen
Super helpful and friendly.
Awesome. Lots of unique things a bit over our budget
Bought a filter and pond plants. Staff was really helpful. Pond has never looked this good.
This is a great place for a stroll on a sunny or rainy day. Lots of cool stuff all around; it feels like a treasure hunt as you explore. Who knows, you might even meet a Yeti.
Get lost in the labyrinth...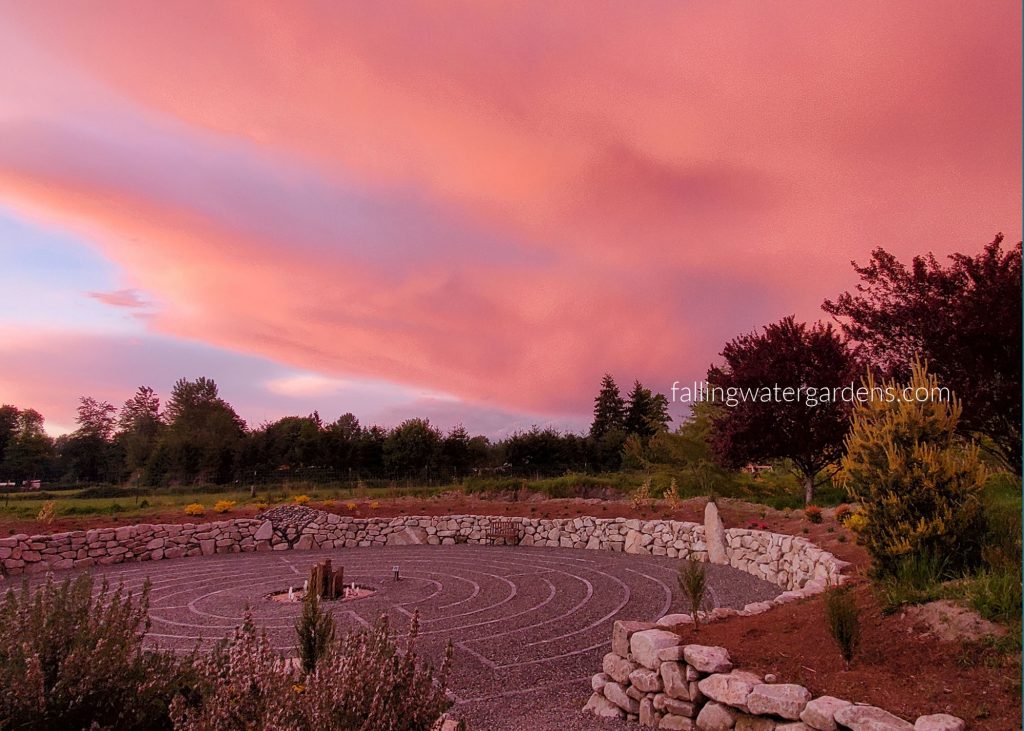 We welcome visitors to one our our newest large features at Falling Water Gardens, our stunning, serene labyrinth!
Set four feet into the ground and ringed with  aromatic flowers and herbs atop rough granite walls, our labyrinth is the a great place to relax, de-stress, mediate or just get your steps in! 
Read more about the labyrinth, it's construction and some tips on how to find peace in this otherworldly escape.