Recent Projects
2013 Northwest Flower and Garden Show
Once again this year we were at the Northwest Flower and Garden Show. This show takes place yearly at the Washington State Convention Center in downtown Seattle. We we were just one of over 25 display gardens. This show is one of the largest of its kind in the Nation. The marketplace itself contains over 300 unique vendors. It's a great place to gather inspiration for your own space.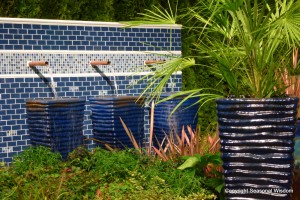 The theme of this year's show was 'Hollywood'. We collaborated on a garden called "California Dreaming: A state somewhere between fantasy and reality."
This line, direct from the movie poster for the 1979 film the garden is named for, captures the retro spirit of 1970's California. The style, primary color schemes and carefree nature of the era are represented through plantings and well-placed props—including a surfboard or two. Show-goers were transported to the sunnier climes of the "Golden State" through the liberal use of palm trees to set the scene, while drought-tolerant, low-maintenance plants are the perfect complement to an active, "California-ized" lifestyle.
Please note that we've updated our newsletter format. You may navigate through this newsletter by clicking on the page numbers below.