Cool Plants
Lavandula Stoechas 'Anouk'
Also called French or Butterfly Lavender. This is an outstanding compact selection, with fragrant grey-green leaves that form a bushy, evergreen mound. Unusual purple spikes of flowers hold waving mauve petals from the top. Excellent in mixed containers, as well as a hot, sunny border. Hardier than other forms, but also easily wintered indoors. Drought tolerant once established. Flowers are attractive to butterflies.
Arundo Donax 'Peppermint Stick'
This wonderful deer-resistant grass, native to Mediterranean freshwater wetlands, has long been a favorite of gardeners. The only drawback was the fading of the leaf variegation in warm weather. Arundo 'Peppermint Stick', imported from the Shanghai Botanic Garden by plantsman Greg Speichert, solves that, with striped leaves just as vivid in summer as in spring. Arundo 'Peppermint Stick' forms sturdy 12′ tall canes, adorned with wide green-and-white striped leaves. In the fall, the clumps are topped with 18″ tall bronze-colored plumes. Arundo may get too large for small gardens, but it is NOT an invasive plant.
Lobelia fulgens 'Elm Fire'
Striking bronze-red leaves and intense deep red starry flowers are arrayed along downy reddish stems on this clump forming perennial. The flowers appear in summer on strong upright stems. This plant prefers a position in partial shade and is suited to areas where the soil is rich and moist. This is easily the most popular cardinal flower available. It differs from the species in its vigor, tremendous flower output, and leaf color. Lobelia is an excellent border plant for moist locations and is a hummingbird magnet. It also attracts butterflies and swallowtails.
Agastache 'Summer Raspberry'
Dramatic spikes of dark raspberry-pink flowers grace the plant above the bright green fragrant foliage for many months. Agastache Raspberry Summer looks striking when used in mass towards the rear of perennial borders. Combines well with yellow Coreopsis and blue Salvias. Agastache are equally good in the border, and as a candidate for container growing. The better the drainage the happier the plant. Scented foliage is good for flavoring drinks and drying.
Salvia 'Hot Lips'
Outrageously cool! This wild selection of the Mexican Salvia microphylla was introduced by Richard Turner of California after the plant was shared with him by his maid, who brought it from her home in Mexico. The fast-growing, 30″ tall x 6′ wide clump is adorned with stunning bicolor flowers with red tips and white lips…attractive to hummingbirds. When the nights warm in summer, the new flowers are all red with an occasional solid white one. As fall approaches, the flowers again will be bicolored red and white. Even if your school colors aren't red and white, this is truly a "must-have" salvia!
Echinacea 'Green Jewel'
Bright light green petals surround a large darker green center on compact and floriferous plants. Add a sweet fragrance to the Echinacea Green Jewels tally sheet, and this one adds up a real winner. Echinacea are considered one of the finest border plants. Flower petals radiate downward from a pronounced central seed head. Butterflies love the flowers, birds love the seeds, and we love the generous long-lasting bouquets. Carefree plants, flowers abound in early summer, then continue until frost.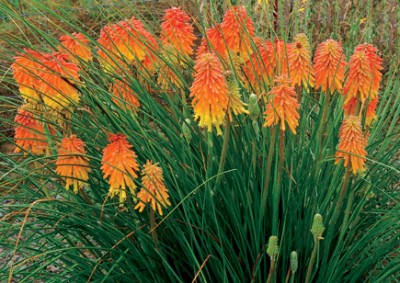 Kniphofia 'Creamsicle'
Also known as Pokers, these are easy to grow in the garden so long as the soil is well-drained, particularly in winter. This compact selection was bred to fit in small spaces. Plants form a mound of grassy, evergreen leaves with taller stems bearing spikes of bottlebrush blooms in a soft-orange color. Stems are wonderful for cutting. Drought tolerant, once established. Attractive to hummingbirds. Bloom all summer. A 2010 introduction in the Popsicle™ series from Terra Nova Nurseries in Oregon.
Ceanothus 'Victoria'
This selection is simply the hardiest of the California lilacs available and the most reliable for our climate. The brilliant bright indigo blue flowers are an absolute show stopper in the spring and look great against the shiny and dark evergreen foliage. This tough shrub is extremely drought tolerant once established and is a fast grower and will quickly fill an empty space.
Please note that we've updated our newsletter format. You may navigate through this newsletter by clicking on the page numbers below.