Good Stuff
Rick's Famous Broccoli Slaw
6 strips of bacon
One package shredded broccoli slaw OR
2 cups homemade shredded broccoli stems.
½ cup raisins
½ cup mayonnaise
2 Tbsp rice wine vinegar
2 Tbsp Splenda
1 tsp anise seed
1 tsp celery seed
1 tsp fennel seed
Pinch salt
Cut the bacon into ½ strips using kitchen shears or a knife. Pan fry the bacon until it is very brown. Then transfer to a paper towel to drain and dry. Meanwhile put the raisins in a Microwave safe bowl or glass with water to cover and microwave on high for 2 minutes then let the raisins steep. In a non reactive bowl mix the mayonnaise, vinegar, Spenda, spices and salt with a whisk until smooth. Add the shredded broccoli to the dressing and add the bacon. Pour off the water from the raisins and add the plumped raisins to the bowl. Mix it all together and adjust seasoning if necessary.
Everblooming Glass Flowers
Edmonds local Sandy Dahlberg is a true artist and gardener at heart. She loves her garden and she hates to see the beautiful flowers slowly wilt away each fall. In order to enjoy her garden all year long she came up with the idea of Everblooming glass flowers. Everblooming glass flowers are constructed of recycled and vintage glass products that are attached to artistic steel hinged stems, which are hand crafted by Sandy's husband Dale Dahlberg. What is very unique about Sandy's glass flowers is the ability for the flowers to be converted into bird feeders or trays quite easily. These are extremely popular and for good reason. Come check out the wide variety.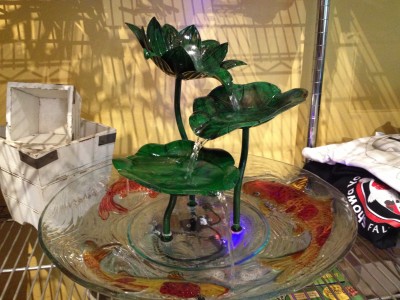 Table Top Lily Fountain
This very pretty piece constructed of glass and metal features a lily flower spilling water into two lily pads, and finally into the koi-decorated basin. The pump is included. This piece is ready to go home with you. This is just one example of the many tabletop fountains we have in the gift shop as well as our greenhouse retail area.
Rain Gauge
Made from weather-resistant cast stone resin, this frog on a rock with rain gauge statue will make a gorgeous addition to any garden space. It comes with a real glass vial which measures in inches and centimeters. Add this piece to your garden, not just for color, but for function as well. It boasts hues of green and yellow and is skillfully crafted to be balanced and durable.
Please note that we've updated our newsletter format. You may navigate through this newsletter by clicking on the page numbers below.