Welcome
Summer officially began this past month. We're happy to have the sun and the heat and so are our plants! We're nearing the height of the season and there's still all sorts of work to be done in the garden. What do you need to help yours down the road to being more complete? Chances are we can help. Aquatics are still rocking, perennials continue to pop in every color imaginable, and we still have all the pond and fish care and equipment you'll ever need. Don't forget there's always new and quirky items gracing our gift shop. It's hard to know how to fit it all in sometimes.
This month's newsletter is chock-full of all the essential news and facts that you'll need for the coming month. For example, It's our 5th Birthday and we're having a party! Thanks for taking the time to check it all  out.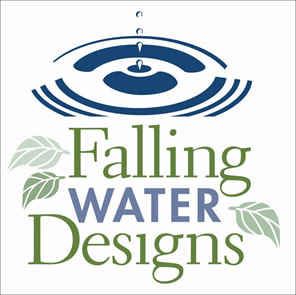 Did you know??? You may simply know us as Falling Water Gardens, the aquatic nursery and garden center in Monroe with the big fountains and display gardens and such. But did you know that the parent company, Falling Water Designs has been designing and installing award winning gardens and water features in the Puget Sound since the year 2000? It's true. We've been featured countless times in the media. We were also featured on HGTV's show Landscaper's Challenge not once, but twice. We've won awards with the Washington Association of Landscape Professionals, The Northwest Flower and Garden Show and the American Horticulture Society. We must be doing something right. Looking to have some work done in your garden? Contact us for an estimate at (206) 323-2873.
Please note that we've updated our newsletter format. You may navigate through this newsletter by clicking on the page numbers below.