Cool Plants
Sedum 'Chocolate Ball'
Very attractive, brownish-red foliage grows just two to three inches tall, with yellow flowers blooming on four stems from June to September. Choose it for containers or as a unique addition to a summer succulent garden. 'Chocolate Ball' partners well with gold foliage plants such as Tanacetum 'Isla Gold'. It is easily grown in average, dry to medium, well-drained soil.
Zephyranthes candida
The Fairy Lily is a white hybridized species of a flower that is usually found in pink flowering form. It grows from 6 to 10 inches tall. It is an ideal plant for rock gardens. The leaves are a deep glossy green and are tiny. The flowers stand on end. These plants grow best in full sun to partial shade and require medium wet soil. The bulb or seed should be sowed outdoors in the fall.
Celastrus scandens
Bittersweet (Celastrus scandens) is a woody perennial vine of hardwood forests. It's native territory spans west to the Dakotas, east to New England, and south to Oklahoma. This vine can reach up to 50 feet if it has tree trunks to twine on, otherwise it takes on more of a spreading shrub-like form. Bright orange berries appear in late fall to make this one of our most ornamental native vines. It makes a great Christmas wreath or centerpiece on the Thanksgiving table, and grows best on trellises, pergolas, and tree trunks. Plants bear male and female flowers on separate plants, so it is best to purchase three or more females for every male to ensure you get berries
Lonicera 'Baggesen's Gold'
"Lonicera nitida 'Baggesen's Gold' is an adaptable and versatile shrub that adds a glow of sunshine to the garden. It develops into a mound of arching branches covered with dainty, golden leaves. In sun these take on a ""platinum blond"" cast, in more shade they deepen to chartreuse. Equally at home in a perennial border or as a specimen shrub, it makes a good golden substitute for boxwood, lending itself to shearing for topiaries and hedges. It can also be used as a tall groundcover under large trees and makes an attractive addition to the winter garden.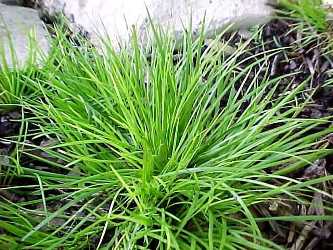 Acorus gramineus 'minimus aureus'
This dwarf Acorus creates a beautiful mat of bright green and gold. It is a colorful plant that grows in sun with moist-wet conditions (not standing water); it appreciates afternoon shade in very hot climates. If planted in part shade, Acorus gramineus 'Minimus Aureus' can tolerate somewhat drier soil, but it is best not to let it dry out as the leaf tips may suffer. Only four inches tall, it spreads slowly by rhizomes, which makes it a superb ground cover for damp areas. It also performs well in rock gardens and can be used to fill spaces between stepping stones. Try it also in moist woodland settings and near water gardens and streams. Like other Acorus, Dwarf Golden Variegated Sweet Flag emits a citrus-like scent when crushed and it creates a lovely accent color where it is least expected.
Clematis 'Ourika Valley'
The Clematis Ourika Valley is an evergreen clematis with lovely creamy lemon nodding bells and a very faint speckling inside. Ourika Valley flowers from November to February for some great winter color, it can reach heights of around 12 feet and prefers to be in a sunny but sheltered site. The Clematis Cirrhosa Ourika Valley was named after the place it was found in Morrocco. The foliage is slightly different from the other cirrhosa types too it has a sort of jaggered effect to the edges. Very nice variety.
Hebe 'Patty's Purple'
The cultivar 'Patty's Purple' is a spreading shrub that is bushy by nature with red stems and elliptic, dark green leaves 1/2 inch long. Small purple flowers appear in the spring and summer on 2 inch terminal racemes. These are suitable for rock gardens, mixed or shrub border and are also good container plants.
Polemonium 'Purple Rain'
An unusual form of Jacob's Ladder, this plant forms a lush mound of ferny foliage in a stunning black-purple shade, later becoming green. Upright stems of soft blue phlox-like flowers appear in late spring. An unusual plant for the woodland garden or edging in the border. Nice as a cut flower. Evergreen in mild winter areas. Easily divided in early spring or fall. Also tends to self seed and most seedlings should show the desirable dark foliage — discard any that don't.
Please note that we've updated our newsletter format. You may navigate through this newsletter by clicking on the page numbers below.