Good Stuff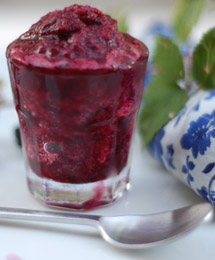 Blackberry Merlot Granita
4 cups fresh blackberries
3/4 cup water
1/2 cup sugar
1/2 cup merlot
1 tablespoon lemon juice
1 (3-inch) cinnamon stick
Preparation
Combine all ingredients in a medium saucepan over medium heat; bring to a boil, stirring occasionally. Remove from heat; let stand 15 minutes.
Strain the mixture through a fine sieve over a bowl, reserving soaking liquid (do not press berries or the mixture will be cloudy). Reserve berries for another use. Pour mixture into an 8-inch square glass or ceramic baking dish. Cover and freeze until partially frozen (about 2 hours). Scrape mixture with a fork, crushing any lumps. Freeze for 3 hours or until completely frozen, scraping with a fork every hour. Remove from freezer; scrape mixture with a fork until fluffy.
Planted Terrariums 
There are so many uses for our selection of terrariums and decorative glass houses. We have a number planted up with moss, orchids, and mini secret garden goodies. They're also great with a flame-less candle (which are amazingly realistic). Your imagination is the only limit when it comes to deciding what to show off inside these pieces.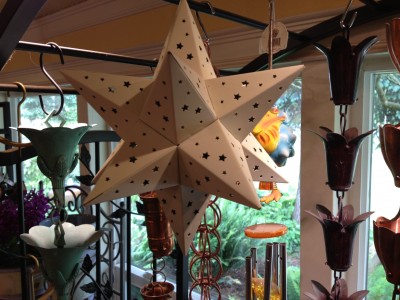 Lanterns
This star shaped lantern is just one example of our wide range of electric and decorative lanterns and lamps. The stars come in a rustic red, white and blue (Happy 4th of July!) Other styles resemble stained glass and pewter-like materials that create stunning arrays of light. If you're looking for something to really bring the room together look no further.
Mushrooms!
Western Washington is a mycology enthusiast's paradise.  Chances are you have a friend or family member that's a mushroom lover. The Pacific Northwest is home to numerous species of choice edibles but these fungi are a feast for the eyes. Beautiful wavy capped ceramic mushrooms are styled in different color patterns and are fantastically natural looking. Try them indoors and out. They make a great gift.
Please note that we've updated our newsletter format. You may navigate through this newsletter by clicking on the page numbers below.