Good Stuff
We've got artichokes at the nursery that are already starting to head up nicely. We've also got them for sale. Check out this delicious recipe.
Quick and Easy Baked Artichoke
Ingredients
1 whole artichoke
2 garlic cloves, quartered
1/2 lemon, juice from
2 tablespoons olive oil
1/2 teaspoon sea salt
3 tablespoons broth
Directions:
Rinse and trim the artichoke, cutting the stem off straight so that the artichoke can stand up on it's own without tipping over. Spread artichoke petals open as far as possible without snapping. Between the petals: squeeze lemon juice, drizzle olive oil and broth and stuff garlic. Sprinkle the top of the artichoke with sea salt. Tightly double wrap and seal the artichoke with heavy-duty aluminum foil. Place artichoke, making sure that it is standing up straight so the liquid doesn't come out (I put them packed together in a baking dish) in a pre-heated 425 oven and bake (medium-sized for 60 minutes, large for 90 minutes). Remove from oven and remove wrapping.
Strawberry Lemonade
Ingredients
2 cups water
1 cup sugar
1 tablespoon grated lemon peel
1 cup fresh lemon juice
1 pint fresh strawberries, hulled and halved
2 cups cold sparkling water or club soda
Ice
Mint sprigs, garnish
Whole strawberries, garnish
Directions
In a medium saucepan, bring the water and sugar to a boil. Reduce the heat and simmer, stirring occasionally, until the sugar dissolves. Add the lemon peel and lemon juice, stir, and remove from the heat. Let cool completely, then strain into a clean pitcher.
In a blender, puree the pint of strawberries and add to the pitcher with the lemon juice. Stir well to combine and refrigerate until well chilled.
Add the sparkling water and stir well. Pour over glasses filled with ice and serve, garnished with mint and strawberries.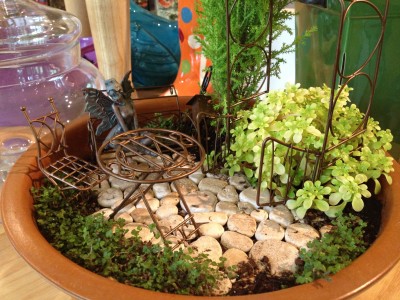 Miniature Gardens
Some call them faerie gardens. Whatever you like, we call them fun and adorable. These tiny garden places can contain furniture, structures, actual living plants, stonescapes, you name it. The design and components are limited only by your imagination. They're designed to give your green thumb a place to tend year-round and lure good luck to your home.
Miniature gardens work well in any space making them ideal for someone who is downsizing or someone who is trying to find the perfect centerpiece for a patio table. We've got the components to help you create your very own! Not sure if you're up to the task or you'd like a jumping-off point? We've got a few that are planted and ready to go.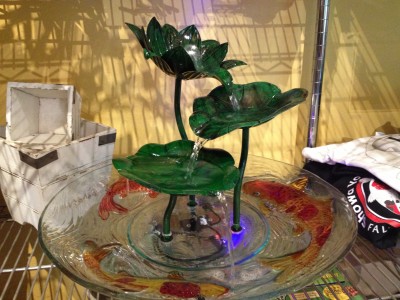 Glass Tabletop Fountain
This is a beautiful, self contained, lighted glass and metal lotus flower fountain. The color-changing light display is beautiful both day and night. THis exclusive design can provide a unique accent for indoor or out. This serene lotus flower metal sculpture is design in glass bowl features swimming koi. Comes complete with electric pump.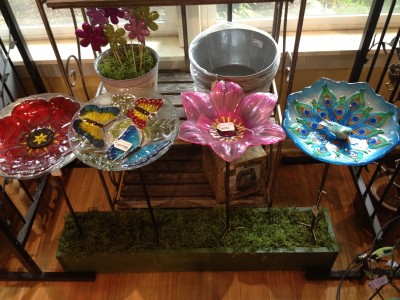 Glass Bird Baths and Bird Feeders
Add beauty to your garden with these colorful glass bird baths! Constructed of high quality glass and painted detailed designs with vivid color. These an be used as a bird bath outdoors in your garden or as a decorative home decor piece indoors. The choice is yours. They start at just $31.95.
Please note that we've updated our newsletter format. You may navigate through this newsletter by clicking on the page numbers below.