Cool Plants
Colocasia 'Black Magic'
Rising to about 36 inches, the elephant ear's deep-purple stalks suspend luxurious leaves of the same color. When the leaves' undersides are dusted with chalky-looking bloom, they have an intriguing, almost gray look. This plant does well in a bog or even in the margins of a water garden, as well as in average garden soil. Dark purple, almost black, heart-shaped leaves. Loves wet conditions.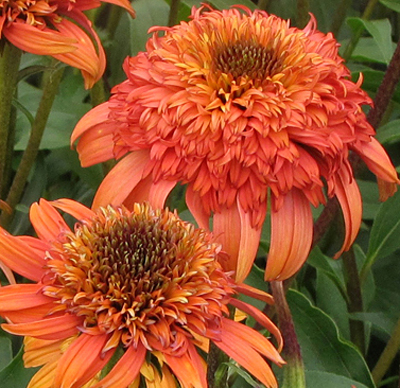 Echinacea 'Secret Lust'
A double-flowered Coneflower, this selection produces fragrant, light pink, daisy-like petals that surround an orange-red pompom. The plant habit is well-branched, strong and bushy. Ideal for sunny borders and growing in mixed containers. Attractive to butterflies and excellent for cutting. Coneflowers begin blooming in midsummer and continue for months if faded flowers are regularly removed. Leaving some spent blooms on the plant in the fall will provide food for wintering birds. Dried seed heads also provide interest in the winter garden.
Clematis Piilu
Often touted as the most heavily blooming Clematis, you are sure to be impressed by 'Piilu's' shower of blossoms from late spring through early fall. This selection blooms first on old wood, producing 3-4" double, light pink blossoms with a prominent, wide, dark purplish red bar.  Flowers produced successively on new wood are of the same color but are single. In cooler climates, this plant blooms continuously all season long.  In hot climates, it will likely take a break at the height of summer and then r-ebloom in fall.  Unlike many Clematis which produce the majority of their flowers at the top of the vine, 'Piilu' blooms from top to bottom, leaving no bare spots at the bottom.
Tricyrtis 'Toad Lily'
Tricyrtis (toad lilies) is a shade-loving perennial in the lily family whose small but beautiful and intricately designed orchid-like flowers stop people in their tracks. When looking for woodland garden plants that flower after the spring season, tricyrtis head a very short list. We currently have two distinct varieties for sale at the nursery. Stop by and check them out!
Heucherella 'Solar Eclipse'
Solar Eclipse boasts maroon-burgundy leaves with a lovely lime-green border.
You add beautiful scalloped leaves, attractive mounded form and great vigor in the garden and you've got it all in a shade perennial!
Heucherella is a cross between a Heuchera and a Tiarella.  They form a small mound of evergreen foliage with upright white flowers that bloom in spring.
Echinacea 'White Swan'
'White Swan' is not as cold hardy or vigorous as its common purple relative, but it makes up for this with its unique, beautiful, pure white flowers. A tall plant with large, dark green leaves and a large, 3-4″ flower with white, broad, silky petals that surround a dark brown/bronze cone. Plants are tough and heat and drought tolerant once established. Their roots have famous medicinal qualities, they make great, long lasting, cut flowers and attract numerous butterflies and small birds.
Hibiscus coccineus
Deep red flowers with a lush tropical appeal. Red-purple stems and deeply cut maple-like foliage that waxes redder through the late summer and fall. The wetter the site, the taller it grows. H. coccineus thrives in moist-wet, sunny and warm areas. Can even tolerate standing water. A water's edge plant, but quite at home in average garden soil if kept moist. Requires fertilizer due to it's rapid growth in early summer and may require staking. Hibiscus transplants easily. Propagated by seed, greenwood cuttings and layering. Mulch during winter to protect roots from frost and prune in early spring for bushier growth. Best effect when planted in groupings of 3 or more. Plant in areas that remain moist such as the banks of a stream or pond, or in perennial beds.
Lysimachia 'Firecracker'
This is a colorful selection of a native North American wildflower, forming an upright mound of rich burgundy-purple leaves, studded with starry yellow flowers in the summer. Will spread to form a sizeable patch, sometimes too vigorous for the border but terrific in containers or among shrubs. Valuable as a contrast plant in the border, especially nice combined with orange or red-flowered neighbors, or with silvery Artemisia. Also terrific with late-flowering tulips, acting as a good mask for the dying bulb leaves. Tolerates wet soil. Excellent for cutting. The best foliage color is early in the season, the leaves becoming more or less green by mid to late summer.
Please note that we've updated our newsletter format. You may navigate through this newsletter by clicking on the page numbers below.