Good Stuff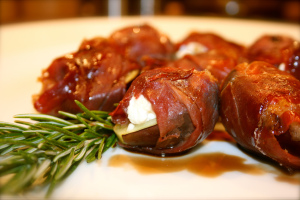 Rick's World Famous Grilled Figs with Goat Cheese and Prosciutto
This recipe is as simple as it gets. You'll require the following ingredients:
Fresh, Ripe Figs
Goat Cheese
Prosciutto
Using a pastry bag, insert goat cheese into each fresh fig. Next wrap each fig with a decent amount of prosciutto and secure with a toothpick. Place the lovely flavor-bombs on the grill until the prosciutto is slightly crispy. Serve on a plate with a lovely garnish and you're ready to wow and amaze your friends and family.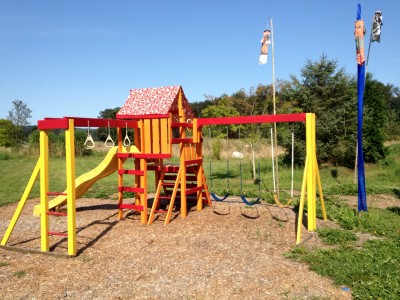 Our jungle gym is up and operational
What a great way to keep the kids occupied while parents shop, right? You need aquatic plants, a few new koi, something from the gift shop, border plants, farm fresh eggs, etc… and the kids always need to blow off some steam. It really is a win-win! Come check it out.
The Moose Head is Back
We received this piece into the gift shop a couple months back, just one I mind you. Much to Ken's dismay, it was purchased within the first week of its arrival. Tempers flared. People walked on egg shells. The tension was palpable but alas we've received a second decorative moose head. All is better with the world. This lovely guy is made of metal and glass and needless to say looks fabulous back in his rightful place.  ~ (He is for sale but don't consult Ken directly!)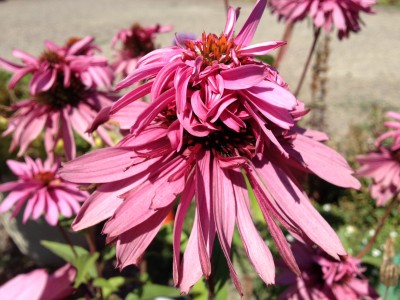 Just a friendly reminder 
We've got a great selection of echinaceas (cone flower) at the nursery. They come in single flowering, double flowering, green, white, pink, red, deep red, deep pink, did I mention green? Yes green flowers. Cone Flower are extremely drought tolerant and a much need plant in your late summer garden. Come get yours!
More Solar Glass Garden Art
This piece actually has two solar powered LED lights that emanate from the two glass globe flowers. This is ultra-durable and never needs to be plugged in. How easy is that? You know that your garden can always use something new and fabulous. Come on out to Falling Water Gardens in Monroe and find out what that fabulous something is!
Please note that we've updated our newsletter format. You may navigate through this newsletter by clicking on the page numbers below.